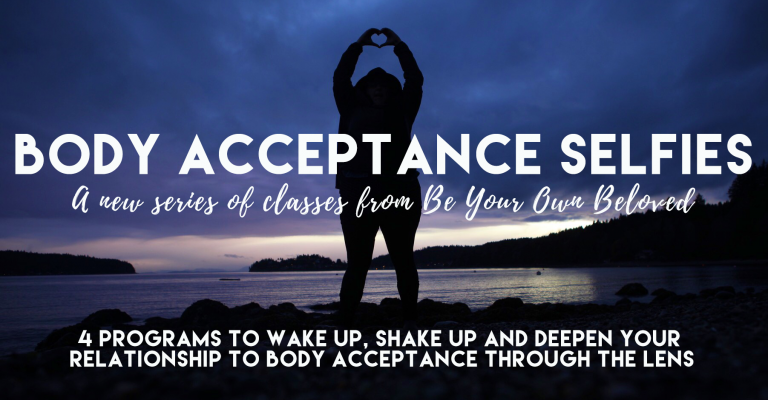 Images have a long-standing role in how we see ourselves.
Long before the word selfies existed and cameras were so accessible as to be found in our phones, people have been using images as a tool to witness themselves, to help them learn to see their body with compassion.
Now, with the act of taking selfies being normalized, it's becoming a more powerful tool for body acceptance than ever.
Though for some of us, images might feel like they challenge our journey to see our bodies with compassion. It can feel like a place where we see proof of the old stories we have about our bodies.
But choosing to take selfies as an act of body-acceptance can help change that.
To take back the way we compare ourselves in images as before vs after and explore seeing ourselves with compassion now.
But how do we go about that? Well, that's where I can help you. There are so many folks out there taking body-acceptance selfies. This movement is not mine. Yet as someone who has been teaching selfies as a tool for self-compassion for almost 6 years and as an avid researcher and participant of both body acceptance/body positivity and selfie culture, I've noticed a few things that I feel are missing from how we relate to ourselves in images, things that might leave us feeling self-doubt even when our images look to others as confident and empowered. These 4 classes are about helping you take images that feel authentic and healing to YOU.
As well,  feel like especially if you're not used to taking selfies or being in images it can be hard to know where to begin and how to explore the camera as an ally to body-acceptance.
That's why I'm bringing you this brand new series from Be Your Own Beloved designed to help you use images (especially selfies) as a tool for acceptance rather than a trigger on your body acceptance journey.
RECLAIMING OUR OWN DEFINITION OF 'BEAUTIFUL'.
RECLAIMING THE LENS WE SEE OURSELVES THROUGH
RECLAIMING THE POWER TO TAKE A SELFIE NO MATTER WHAT OTHERS MIGHT THINK.
RECLAIMING OUR RELATIONSHIP TO 'VALUE' AND WHERE WE PLACE IT.
RECLAIMING OUR POWER BACK AND LEARNING TO STAND GROUNDED IN IT.
RECLAIMING THE WAY WE SPEAK ABOUT OUR BODY.
RECLAIMING THE RIGHT TO BE THE NARRATOR OF OUR OWN STORY.
RECLAIMING OUR CAPACITY TO SEE A PHOTO OF OURSELVES AND FEEL NEUTRAL ABOUT IT RATHER THAN CHARGED…TO SIMPLY & CLEARLY SEE OURSELVES AWAITING US.
And yes, it is hard word work to reclaim that back for ourselves. Yes, it's vulnerable. To clear off the lens of those expectations and truly see ourselves awaiting us. To start a conversation with ourselves and invite in compassion for our body right here right now.
That is why body acceptance is at the heart of all of the Be Your Own Beloved programs.
You get a gentle introduction to it in the Be Your Own Beloved class and for those who are ready to go deeper, the year long Body Peace invites you into a journey to explore body acceptance in your own time and find your own voice about how you see yourself again.
After teaching Body Peace for the past year, the idea of bringing you 4 shorter programs emerged. 4 core themes that I see as ways that we can wake up, shake up and deepen our relationship to body acceptance through the lens.
In these four 10 day programs you'll spark your relationship with your body, reclaim your voice, reclaim your power back through the lens.
You can take each program individually or get an even more powerful dose of body acceptance discovery this year by joining in for all 4, spread out throughout 2017.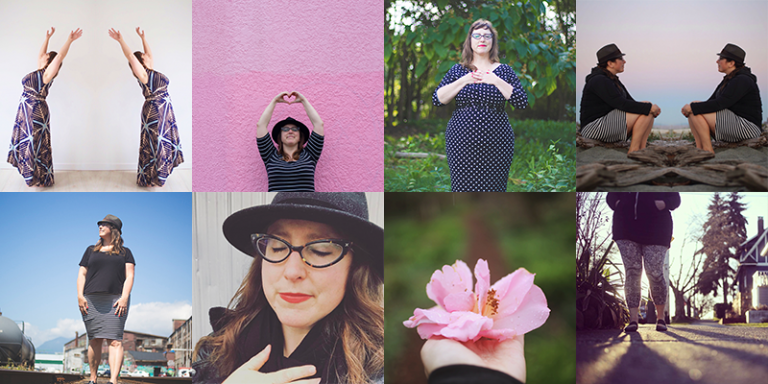 Why we need this series:
Almost weekly I find myself being tagged in conversations within the body positive community that often go something like this: "I've been working so hard on making peace with my body through food and exercise and waking up to diet culture and I feel great and empowered…but then I see a photo of myself and it all comes up again".
This is really common in our body acceptance journey. And it doesn't mean that you're doing this wrong or that the "proof" of your old stories that come up in photos are true.
IT'S SIMPLY THAT FOR MOST OF US, TO MAKE PEACE WITH OUR BODIES IN PHOTOS, WE HAVE TO DO SO THORUGH THE ACT OF TAKING IMAGES OF OURSELVES. THE PHOTO IS THE DOORWAY TO A DEEPER RELATIONSHIP WITH BODY COMPASSION AND ACCEPTANCE.
And of course, I always respond with some suggestions for how they can start to make the camera an ally on their body acceptance journey.
I think that often in body acceptance work we leave the camera out of the equation, thinking that the work we do in general to make peace with our bodies will translate but most often it doesn't. The camera is a doorway to deepen our relationship to body acceptance.
I found as I respond to those questions within the body acceptance community that there were 4 themes that consistently emerged as steps they could take right now to shift that relationship to the images:
To explore taking selfies for themselves (to shift the focus of what others might think of them and unhook from praise and criticism)
To invite themselves into the frame on their own terms, to curate their body love photos not by what other people expect but by what feels healing to them
To explore photo resilience and I'd share tools with them for how to do that
To ponder letting go of the goal being to LOVE all their photos and instead to explore body neutrality
So this series is really a love note to the Body Positive Community. An invitation to take those suggestions and put them into action a playful yet powerful series (with time in between each class to let it soak in as well as to put it into practice in our everyday lives).


In the Series you receive:
4 Ten Day Body Acceptance Selfie focused classes which include daily selfie activities and explorations with a focus on seeing yourself with compassion
A Private Flickr Group where we'll be sharing our photos
A Body Acceptance Selfie E-Book to start off and support your journey
A FREE Copy of the Selfie Starter Guide to get you started (and answer any technical selfie questions you might have).
The Body Acceptance Selfies Starter E-Book: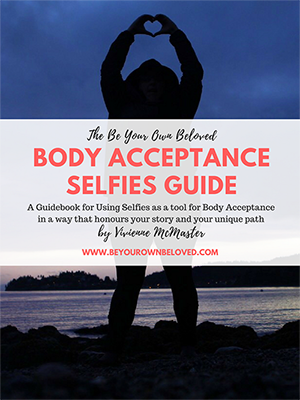 As part of joining in for the Body Acceptance Selfie Series of E-Courses, we start out before class even begins by exploring Body Acceptance Selfies as a whole in this pre-class E-Book.
When you sign up for all 4 classes you recieve this bonus E-Book. It explores:
What is Body Acceptance & Body Neutrality?
How we can use selfies as tool for body positivity
What makes a selfie body positive
Types of selfies you could take as a body positive tool. Hint…there is no one way to take a body positive selfie. While there are common types of selfies folks do, that doesn't mean they are the only way. You get to rock your body acceptance selfies your way.
Technical and creative tips for inviting yourself into the frame (which you'll also learn experientially through the prompts in the 4 classes)
Links to hashtags, inspiring selfie-takers and resources for your body acceptance selfie path with a focus on diversity and intersectionality.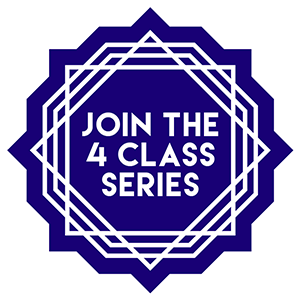 The Body Acceptance Selfie Class Series Includes: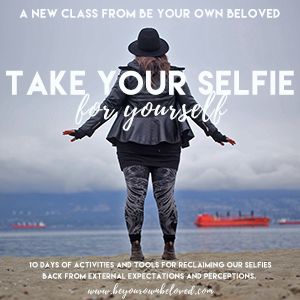 Take Your Selfie For Yourself  
May 15th- 26th, 2017
Who are you taking your selfies for? Yourself? Or others? Especially in this day and age of selfie culture it's hard to separate the act of taking selfies from sharing them publically. But often that's exactly what stops us from feeling healing through them.
In this class we reclaim our power back through the lens and explore taking selfies for ourselves first and foremost.
Learn about Take Your Selfie for Yourself class here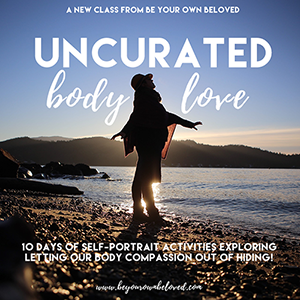 July 17th-28th, 2017
We often hide our potential to see ourselves with compassion in the way we curate our photos. We hide parts of ourselves from photos (or apologize for them) when if only we were to let ourselves out of hiding, body compassion just might await us. We're also going to ditching the goal of the 'perfect body love selfie' and reclaiming our uncurated everyday body love. Let's get uncurated!
Learn about Uncurated Body Love here!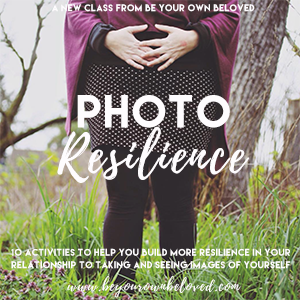 Photo Resilience

August 7th-18th, 2017
We all have those moments when we see a photo of ourselves and the old stories come flowing back and shake us up. How do we bounce back and reclaim our power in these moments? In this class I share my 10 favourite activities for building photo resilience in taking and seeing images of ourselves.
Learn about Photo Resilience here!
October 2nd-13th, 2017
We don't want to 'hate' our bodies anymore so we swing the pendulum the other way and aim for body love. But trying to always LOVE ourselves is a lot of pressure and can be as consuming as self-hate, having us feeling like we're 'failing' if we have a tough body love day. But there is another option in body neutrality. In this class we explore tools for finding body neutrality through the camera lens.
Learn about Body Neturality here.

If you'd like to join in the classes individually, click the class page above to sign up for our individual class (the link will be available as registration opens). Registration is open for the Take Your Selfie for Yourself class. Though the best deal is to take them all together and you can register for that right here!


Register for the Body Positive Selfie Series:

Registration is now closed but join this list to be the first to know about the 2018 Session of the Body Acceptance Selfie Series!


Questions:
I missed Take Your Selfie for Yourself. Can I still join in for the rest of the series?
You bet. We had such fun exploring the Take Your Selfie for Yourself class and you can still join in for the series even. There is a price reduction to reflect that but you can still explore the Take Your Selfie for Yourself class at your own pace (via the ebook or you can opt to get the 10 prompts in your inbox self-paced before our 2nd class begins). Then you'll join in live for the next 3 classes and of course join our Flickr and Facebook Groups!
This option is only for the 3 remaining classes (and I won't be reducing the price for the 2 class option so this is your last chance to join in for the series price and get the pre-class Body Acceptance Selfie E-Book as part of the package too).
Do I have to have taken Be Your Own Beloved?
You don't have to be a Be Your Own Beloved alumni to join in at all, especially if you're already accustomed to taking selfies and are in the process of learning about body acceptance and are interested in digging more into how the lens can play a part in that.
If this topic or the idea of using the camera as a tool for self-compassion and body acceptance is really new to you, I probably would start with the Be Your Own Beloved class though…it's even more gentle and I really do ease you into being in front of the lens throughout the month and we really gently explore body acceptance too.
Of course, feel free to connect with me via the contact form if you're wondering if its the right fit for you.
Can I just get the E-Book?
At this point, no it is only available as a part of taking the full series of classes. It may be available as a separate E-Book down the road but right now it's only available as a bonus of taking the 4 classes and a tool to get you started.
Is this a self-portraiture class?
All of the Be Your Own Beloved classes including the Body Acceptance Selfie Series is an adventure into self-portraiture, using any type of gear you have (smartphones welcome). It isn't a how-to class but in each activity we focus in on a different kind of selfie (like taking photos of your hands, your feet, your reflection or the perspective we are taking it from). You learn so much simply by doing and experimenting with the activity and I'm available for any technical or creative questions that arise!
Do I get feedback on my photos?
We have a course Flickr Group with each class where we'll be sharing our photos.  I will be spending lots of time in the Flickr group exploring photos and I love to comment on photos and cheer you on!  The feedback you will get throughout the course will be encouraging and as you'll find, it becomes fun to cheer each other on in this adventure!  You will definitely receive supportive feedback from me (as well as your peers) on many of your photos during the class.
Is the class for women only?
No, the class is welcome to all genders and all bodies. While the class is often mostly women, it is open to men and folks who identify outside of the gender binary. I use gender neutral pronouns in the class to welcome folks of all genders and to not assume the gender of anyone's partner either. Safe space for all of us, including women, trans and gender queer folks, LGBT community and men dealing working through body acceptance is of the utmost importance to me. Each class I offer, I'm always in awe of the diversity of backgrounds and life experiences we each bring to the group and the safe space we create together.
Why is the program listed in Canadian Dollars?
The class is listed in Canadian Dollars because well, I'm Canadian! I make sure to list the approximate US Dollar beside it because I know a lot of folks who join in are in the United States. I also know that we have folks joining in from around the world. Last years program had a number of folks joining us from Australia and the UK and the Be Your Own Beloved class is in general have had folks joining in from France, Germany, Brazil, Japan, New Zealand and so many more places around the world. So there is not one ideal currency to charge, so it makes the most sense to me to charge my own currency.
Lots of us may be used to paying in different currencies, but if you're not…don't worry, it's super easy. In fact Paypal will actually just do the work for you and let you know what the price will be in your currency. Plus, if you're from the US, this actually works in your benefit right now as you can see from the approximate US Dollars listed beside the CAD. And if it feels like a roadblock to joining for you to pay a different currency, don't hesitate to send me a message and I can send you paypal invoice in US Dollars instead (but do try the paypal button first, it's really way easier than you'd think).